Just a little background before I start the review, if you're not interested, then please just scroll down :) :
In the past few months, I've been packing on the pounds. Since I've lost my job in October I put on nearly 15 lbs, and I'm not too happy with it and for the past few months both my boyfriend and I have vowed to get back on our calorie restricted diets, and going to the gym and doing p90/p90x. Though my boyfriend has started, I have not, and no matter what, I couldn't motivate myself. I always had excuses like: "I'm working again, I don't have the time!" or "I'm too sore from work, I don't want to work out, I'm probably burning million calorie at work anyway!" as I start eating delicious Taco Bell.
Then a month ago I looked in the mirror and realized I had let myself go. I took my checks and saved up the little money extra I had and I bought myself this lovely JSK by Angelic Pretty. I bought it not only because it's beautiful, but because of the measurements. The bust is the smallest I've ever seen for an AP dress, being at max 30 inches. I'm at 34, so I have quite a few inches to lose. I feel this dress is giving me the motivation I need to lose the weight and stay on a diet. Seeing as the dress is a perfect spring/summer dress, I'm hoping to be able to fit into by May, or even April for my birthday <3
~~~~~~~~~~~~~~~~~~~~~~~~~~~~~~~~~~~~~~~~
~~~~
REVIEW:
I bought the dress off the Second Hand seller, Tokyo Alice to see the Tokyo Alice review please "
Click here
"!
It was listed as Angelic Pretty ローズストライプ柄ジャンパースカート アンジェリックプリティ I couldn't quite translate it correctly so I asked a few people and the name of it is bascially: Angelic Pretty Rose Stripe Pattern JSK, so that's what I'm calling it.
Here is a full view of the dress laying down [forgive awful cell phone pictures: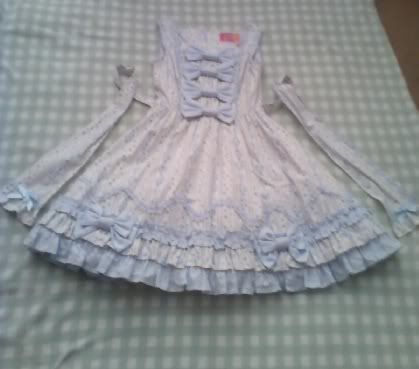 It's very nice and full. It's about 32 inches long and the bodice is 16 inches wide.
Here is the back: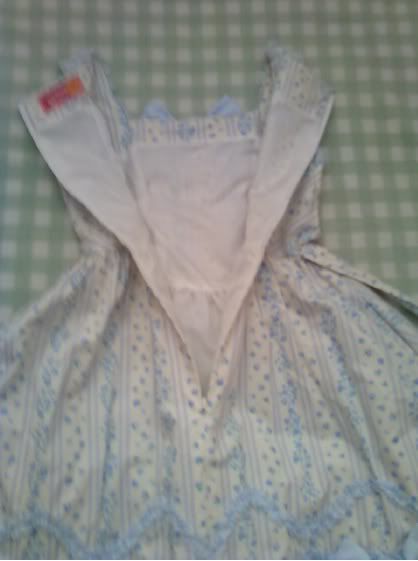 As you can see is a full zip. There is no corset, or any shirring. There is absolutely no give whats so ever. It either fits ya, or it doesn't [in my case it doesn't fit YET ;-;]
Lace detail: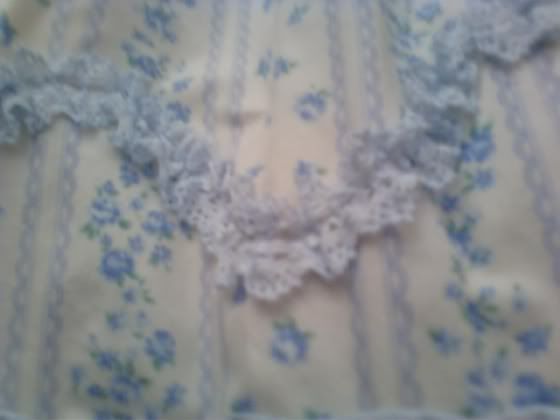 This is the kinda frilly lace that does a little wavy design, the top lace on the bodice is the same. It's very VERY soft.
Lace detail 2:
This is the lovely rose lace towards the bottom on the sax blue strip.
On the ends of the ties. They are pleated and there is a little lace and a small bow:
This is the only thing about this dress I'm "meh" about. I just feel that the bows aren't tied neat enough and it looks as if they may fall off soon. I may detach them and reattach them nicer.
The tie buttons are super cute: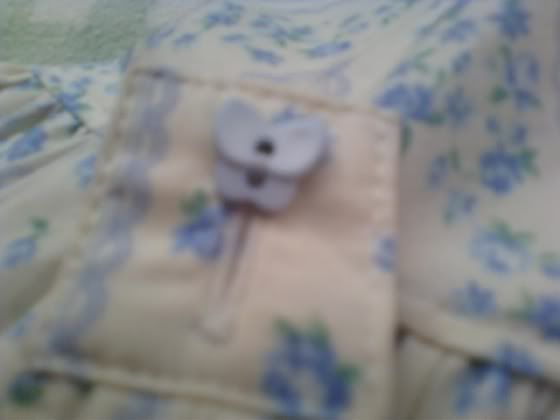 I really like cue little butterfly among the cute floral print.
Here is a close up of the print: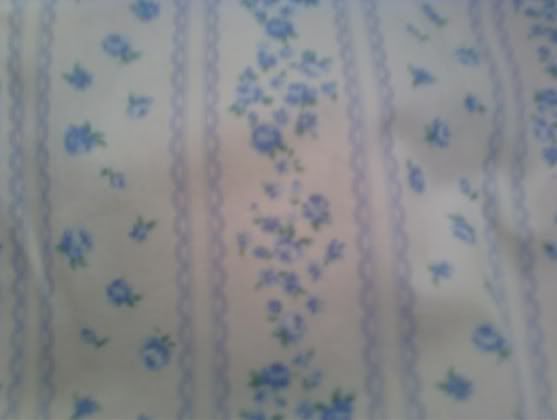 It's a very cute and classical pattern, pretty unusual for AP.
And here is the tag: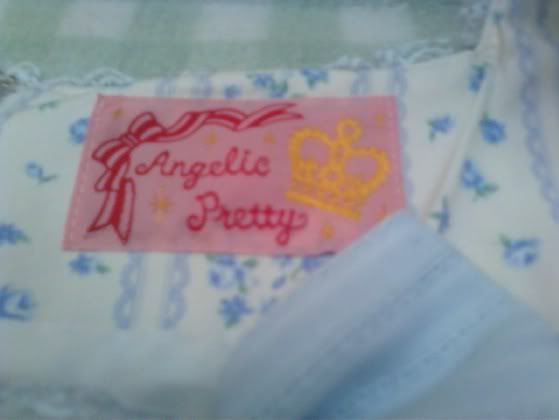 Just proving it is, in fact Angelic Pretty. When I first saw it I was amazed that AP put this out, it seems so.. not like them.. They usually have crazy pastel prints and solid colors, rarely do I see them put out such a classical pattern.
If you enjoyed my dress review or want follow me on my epic weight loss journey, feel free to add me :)
Current Mood:
cheerful